A Society of Humping Dogs
A Society of Humping Dogs
I can't remember ever praying for a white Christmas. I'm not saying that it never happened; I just don't recall it. Perhaps, I might have done so, once or twice, in my youth, when I was fervently hoping in vain that our local superintendent would cancel classes for the day. As an adult with a need to get things done, snow is always a hindrance, rather than an asset. In this regard, if I never saw another snow flake again, I don't think it wouldn't bother me. However, for those in southern Michigan who were praying for a white Christmas, it appears their prayers were answered in the affirmative.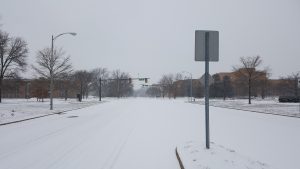 I've been very busy as of late.
As I stated earlier, we found out Michelle has epilepsy. Until she gets the right medication to stabilize her condition, then goes six months without having an episode, she will not be able to drive. We've already been through this process with my daughter, Hannah, so we know what a long and winding road it can be.
In the meantime, that means my other daughter, Jessica, and I do a lot of running when we are off of work. It can be tiring at times, but I don't complain because I am grateful for my health and I am thankful that my family is in tact and everyone will be okay in time. Furthermore, I know Michelle feels bad that we have to run her and Hannah where they need to go. I don't want her to feel worse about it. If the roles were reversed, she would do it for me. That's what families do; they pull together during the challenging times. Adversity makes us stronger.
Today, I got to meet Jessica's new boyfriend, Alex. We went out to breakfast for her birthday, and she had asked me if it would be okay if he came. Of course, I was interested in meeting him! I had heard how shy he was, and how he would open doors for her. Best of all, he hadn't tried anything inappropriate with her. My wife and I have taught our daughters to wait until they are married until having sexual relations. It has been a challenge, at times, getting them to understand how a young man, who is genuinely interested in you as a person, should behave.
There seems to be very few quality young men in the world. I think young ladies, who truly are virtuous — they are hard to find too — get used to being treated like trash because boys these days are not interested in quality, meaningful relationships. They only want girls to massage a certain appendage on their anatomy, then it's off to the next conquest.
I was never like that. And Michelle and I have made it a point to raise our daughters to demand respect for themselves in their relationships. It pains me to say it, but the world is full of dirt bag men who don't know how to treat women. I strongly suspect this is due to a breakdown in fatherhood. I could go into the whole history of where it started, in the sixties, with the "free love" movement, where orgies were common and the mentality of "if it feels good, do it" had its origin. Couple that with the psychological strychnine that is "values clarification" and "values neutral" education programs being taught in the public fool system, and on the college campuses across our country, and you have a recipe for socialogical breakdown. It isn't hard to understand from whence all of the promiscuity comes. Then, there's the media… don't get me started on media.
The goal of cultural Marxism is deconstructing society until it can no longer function. Then, upon the ashes of societal ruin, they will create the "Phoenix" of their reordered world, complete with their new morality. The only neutralizing force, which serves as an effective opposition to the onslaught of toxic social engineering that is being waged upon our nation and its people, are parents. Good parents. Parents who nurture and properly discipline their offspring, when necessary. In this equation, it takes both men and women. Men must be there to raise their boys, and instruct them on how to properly treat young ladies. Fathers must also be of upstanding character, so they serve as role models for their daughters to know what to seek and demand from their romantic interests. Mothers both nurture and discipline the children, teaching their daughters what to expect and require from the young men who come calling. Both parents instill values and skills into their children, so it can be preserved and practiced in their family's lives some day. This is the pattern that has repeated throughout history, from the most primitive societies through recent decades.
Contrary to what politicians, pushing nefarious agendas, try to tell you, it doesn't take a village to raise a child. It does take good parents. Both parents. My heart goes out to any and all parents who are left having to attempt to do the job alone. Speaking from experience, it is one of the toughest jobs one could ever undertake, even with a good spouse there to help. Dealing with the challenge alone can only be overwhelming, I would imagine.
Parents make a family. Without the foundation of the family, we as a society inevitably end up with a bunch of young men who lack the moral fortitude that has preserved our country and its culture. Instead, we are reduced to a nation of hoodlum boys and girls who act like a bunch of humping dogs. How is that for a nice Christmas Eve thought? We have become a society of humping dogs.
As I was saying, we had breakfast at Cracker Barrel and Jessica's boyfriend was there. Unlike the many other boys that she has dated, he's very quiet, seems respectful, and so far, I like him. Granted, it's early, and I've gotten very cynical at this point, but it has given me some hope that there may yet be a few young men that exist in the world who have some character.
Hannah is seeing someone too. She is very careful to not refer to him as her "boyfriend", at this point. She had one bad relationship before, and has seen the many losers her sister has dated, so she is playing it very carefully. I haven't met him yet, but I am hoping that they both will find quality companions that will treat them well. It has been a long battle, keeping them out of the bad relationships. We have stressed many times that it would be better for you to be single the rest of your lives, than to get into a bad relationship. After years, trying to get that message through to them, could it be that the dividends of those investments are beginning to pay off? Time will tell. But for the first time, I'm finally optimistic.