Happy Thanksgiving
Happy Thanksgiving
A lot has happened since my last entry. I have not had a whole lot of time to do a lot of writing, or much else. There are so many things happening at a rapid pace that I can scarcely keep up.
Work has been extremely busy, lately. I have been trying to deal with tech support for our automation system which has some significant bugs. I have been producing videos of the anomalies for tech support, so that they can see the problems that we are experiencing, in the hopes that they can fix the code. There have been many programs that have to be segmented and prepared for broadcast, as well as a number of "live to tape" productions that we have been involved in lately. "Live to tape" is somewhat of a legacy term, as, of course, we don't really use tape anymore. TV recording is done on hard drives and XD-Cam disks, which allow for high definition storage of content.
Michelle's situation has improved considerably. She actually started back to work this week and worked Monday and Tuesday. We had went to University of Michigan hospital and was there about three days. I stayed there with her for the entire time. We thought, originally, that it would be a wasted trip, as no one in the past had ever been able to find out what was wrong with her. However, U of M has an excellent staff and facility. They had her brain and heart hooked up with all of the sensors and were monitoring her, both video and audio, 24/7. They even had infrared light so they could see her in the dark. The first night we were there, they noticed that she had two, short, 15 second seizures. They said she had never moved, and had I been in bed with her, I would have never noticed anything. Based upon those almost undetectable incidents, they said they thought it was epilepsy. The following night, nothing happened. The next night she had another nearly undetectable seizure which they could see on her charts. This time, she moved just a tiny bit. The next morning, as they always do, the doctor and his large entourage came into the room to brief us. They told us they were 90 percent certain that it was epilepsy. They recommended a medication that they said was new and had a very low side effect profile.
When they left the room, she cried. It was hard for her to hear that she had epilepsy. We had been very familiar with the diagnosis, having been through it for years with our youngest daughter, Hannah. Hannah's began with an injury on the ice. Her and my other daughter, Jessica, were members of the United States Figure Skating Association, and were teaching young kids how to skate. A little boy accidentally tripped Hannah and she fell on the ice. When she went to get back up, there was a hole in the ice that she didn't see and when she went down the second time she hit her head on the ice and knocked herself out. She sustained a concussion from that. Shortly afterward, within a few months, is when her epilepsy began. We struggled for years to find the right medications to stop her seizures, without causing her problems with the side effects. Thankfully, we have her to the point where she is stabilized.
Michelle changed for the better as soon as she started taking the new medication that was recommended by the university hospital. It was like she was back to her old self again. From time to time, when involved in stressful situations, she feels the feeling coming on, but so far it has been held at bay. She will probably have to have a little bit of a higher dose to avoid "break through" seizures, but we are optimistic that this thing will be whipped soon. She still can't drive for six months, because that is Michigan law. Luckily, both daughters attend college and Michelle's work is on their way, so they can drop her off. Getting her home is the only problem and they are able to do that some times. I can help drive her when I'm not working. Her parents and sister help too. Hence, it has kind of become a family affair. It will be a challenge, but I think we will manage. It is only six months, as long as she doesn't have any more.
Today was Thanksgiving. We have a lot for which to be thankful! Despite all we've been through, we're all still here and we have each other and, despite a few setbacks, our health is still good.
Michelle's parents, her sister and husband, and our girls all shared Thanksgiving dinner at our place. After they left, I put on some smooth jazz and we cozied up to the fireplace for the evening. The outside temperatures are below freezing again tonight so I built a nice fire in the fireplace for her to enjoy.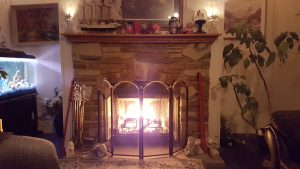 Autumn is almost over, and the blustery sting of winter awaits us. The count down on the Govern America site is now telling me that we have only 37 more days to the new year. Where does the time go?